Volunteer & Intern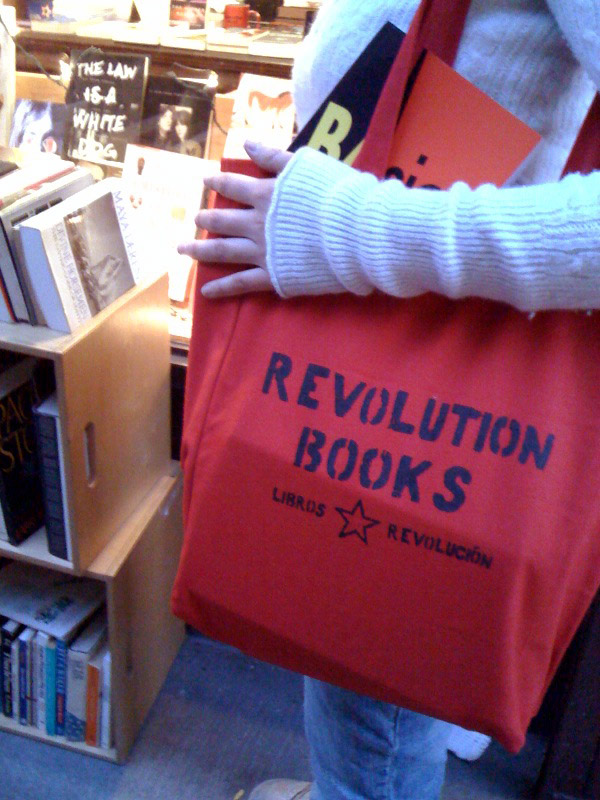 You will be volunteering at a unique bookstore. People come into Revolution Books from all over the city, the country, the world, and they find the books and engagement about why the world is the way it is and how it could be radically changed. You will be working in an atmosphere alive with critical thinking — a center of the movement for revolution.
At the heart of Revolution Books is the cutting-edge work of Bob Avakian who has developed a vision and viable framework for a new society that is working to overcome and dig up the roots of all the forms of exploitation and savage inequality that people suffer from today; a society where wars of plunder and subjugation of nations and cultures are no more; where a new constitution would require safeguarding the environment. All in a framework that gives great scope to intellectual work, ferment, and dissent so that people could consciously and collectively strive for a world where all humanity could flourish.
The bookstore's slogan speaks to its reason for being: "Humanity needs revolution. Revolution needs Revolution Books. Revolution Books needs you." Learn about this revolution as you work with Revolution Books.
Take a shift— You can volunteer every day, one day a week, or a few hours each week.
* Work with the books– we have a curated collection of thousands of books: history and revolutionary theory, novels and poetry, science and philosophy, children's literature and magazines, books in Spanish, DVD's. Write book blurbs for the website and store, help find new books, keep the shelves in order and clean. Work with our used book collection: organize used book sales, and online sales.
* Help with the accounting, book ordering, and all that is require to keep this bookstore open and expanding.
* The most interesting and interested people come into this bookstore—talk with them, help them find what they're looking for, find out what they're thinking, introduce them to what RB is about.
Street Team— Join the teams taking Revolution Books out in the world: take flyers or set up RB book tables at events, films, conferences, in the parks, literary festivals, book readings. This spreads the word about the bookstore, and can help change what people think, the public discourse, on the urgent questions facing the world.
Events– Help organize and promote Revolution Books author readings, panels, film screenings, open-mics, concerts, discussions. Revolution Books hosts over 100 events a year—it's the place to find the most provocative discussions on the burning issues of our time.
Social Media & Website – Spread Revolution Books online: post our events and the bookstore on blogs, Facebook, Twitter. Help launch our new website and maintain it.
Graphic Design, Photography & Video– Revolution Books constantly needs new flyers and signs, plus design for our website and emails.
* Help design store and front window displays, we also need portable displays for taking Revolution Books to parks and concerts. Work with us on the look of the bookstore so when people come in, they feel like they're in a revolutionary place.
* We need photos and short videos on the bookstore for the website and spread online. Soon we will be launching a crowd-funding campaign and will need videos for this.
Fund Raising—This month we're launching a major 6-month fund drive to save and expand Revolution Books. Help strategize this campaign, do mailings, join phone banking teams, be part of an effort which really matters– keeping this essential bookstore open and expanding to fill the great need in the world.
Please contact Quetzal Ceja (Volunteer Coordinator) to get a short volunteer application and arrange for an interview: 212-691-3345 or e-mail revbooksnyc@yahoo.com.
Revolution Books can structure a formal internship program with you and your school or other institution. Four hours per week minimum is required. Currently, Revolution Books is working with various New York City internship programs at high schools, colleges, and social service agencies.
Revolution Books is not-for-profit and its staff is all-volunteer.
—
Why I Volunteer at Revolution Books (from a student at a CUNY campus)
I am writing to share with you my experience so you can have a better understanding of where your relationship with the store could take you. This past spring semester was a completely life-changing period of time for me. I was taking many classes that opened my eyes to the corruption, exploitation, and true horrors that exist in our country and all over the world. I was absolutely disturbed by many of the things I learned and got an immediate sense of urgency to share this with others and do something about it all; a pretty major task for someone at my level. But I am not one to quickly give up on things I feel as though are worthwhile, and I mean saving the world seemed pretty important so I continued on in my studies and my passion and curiosity took me deeper and deeper. In a very short amount of time, I started feeling as if I was in on the joke. I loved this heightened sense of reality and wondered why more people didn't want to be in such a state of enlightenment, but I knew I couldn't be alone in this mindset.
I had been introduced to Revolution Books in a course on public drug policy, and was immediately intrigued, but more so as someone who wished to help save an important bookstore, not necessarily in any other light…yet. On another day, the store had a table in my school and I stopped and noticed the headlines of the Revolution newspaper. I don't remember what was written exactly but I do remember feeling as though I had never before seen such honesty, so completely unapologetic, acknowledging and questioning the atrocities in our society. I bought the paper and signed up for the bookstore's newsletter.
I started going to events, all of which were fantastic. They ranged from tributes to feminist writers and poets to political plays to open mics. I caught an incredible, fresh energy from the people who attended, however being new to the store I was pretty shy and didn't really talk to anyone. That never lasts long at Revolution Books. The people there genuinely want to know those who take the time to come to the store and the events, as each individual is truly valued. On my way out of an event, a woman stopped me asking if I considered volunteering for the store as she had seen me there a few times before. I hesitated for a moment, as all too often I commit to too many things at once, but at the time I had some availability so I said, of course, I would very much like to be more involved. At the time, I had no idea what that would actually translate to.
It was suggested that I start with "BAsics" by Bob Avakian. Before the store, I had no idea who this man was or what he stood for. That changed real fast. As I read I connected deeply with the text, made up of quotes from his collection works throughout the past 30 years. These quotes were all based off truth, facts, and realities. I realized the main point of all of this was to go out and spread the word of revolution, that things don't have to be this way, that it isn't all our faults, and that there is a man willing to completely give himself to the people for the betterment of the world. I volunteered for a few events, handing out cards with "Basics" quotes on them, trying to wake people up and show them that there is another way. Like anything else in this world, and like every other movement, there is and will continue to be opposition. To better understand both sides and have a strong defense, I attended discussions on these quotes, and other issues concerning the movement for Revolution. At all times I felt very secure with the people from the store, sharing opinions and ideas and learning at a rapid fire pace. This knowledge gave me an even more heightened sense of liberation and freedom. I was bringing myself out of the dark, with the help of others who had been there before me.
Right now, I am deeply involved with this movement we are calling, End Pornography and Patriarchy: The Enslavement and Degradation of Women. It is bringing forth a new argument that has really never been posed before, and that alone is saying something. In this country, most people are living under the disillusionment that women and blacks fought hard enough and basically ended their oppression. Women can now be CEOs and blacks can now sit in the front of the bus… But wait, there is so much more to it than that. Yes they all did fight hard, but it only did so much, and the reality is, we are now facing a total backlash for their achievements. Blacks are being incarcerated at a devastating rate and women are being subjected to degradation, rape and enslavement on a massive scale everyday. Not only that, but they are living in a society that tells them, if they do not have a college degree, or even if they do, the best possible option for them to make decent money and a decent living, is in the sex industry, turning their bodies into commodities to be consumed. You may want to argue right away that well, women have the choice, and they are taking control of their bodies and using them to their advantage. The fact of the matter is, we are living in a society saturated with all these ideas of what the ideal woman should look like, and act like, and all these magazines telling women how to better please their men, etc. We truly need to take a step back and look at the bigger picture. What is the porn industry doing to women? What is it saying about their role in society? Who are the ones benefiting from it? Why is it so mainstream? Where is it going? It isn't simply a matter of choice. I mean, our choices are limited to options given to us by the system as it is, and a society where this is even an option, should be thoroughly looked at and broken down to better understand why this is all happening.
I went out with this movement for a 10 day stretch we called, Taking Patriarchy By Storm. It was absolutely incredible. The people I met, the conversations I got into, the stories I heard, and the things I did, I will never forget. We engaged people in this dialogue about the porn industry as well as abortion and how it all connects in this global war on women and truly changed the way people think about it all. At the end of the 10 days I felt a sense of complete ownership of myself as an individual, and I felt so completely liberated. I knew there was no going back.
With this all being said, I invite you to liberate yourself. I invite you to learn, grow, and fight back with us, because if we are not acting to make this Revolution real, once we have this knowledge, we are selling ourselves short. The students of this country could be such an incredible force within this movement.
The world comes first.
Thanks for reading my story.
Hope to see you soon. =)