---
March 12, Wednesday, 7pm
come to the
BA Everywhere Meeting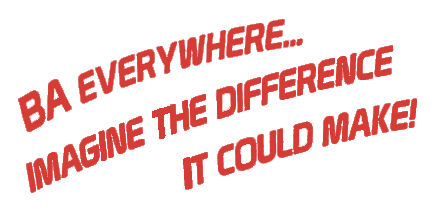 We will dig into, discuss and prepare for: March 27-30: National Fundraising Weekend for BA Everywhere!
• Because the people need to know there is a radically better way the world could be.

• Because people need to experience: "BA Speaks: REVOLUTION -- NOTHING LESS!"
The BA Everywhere campaign is announcing that each month this year, there will be a weekend of nationally coordinated and focused fundraising, and popularizing of BA. This will be an important way the campaign can begin to develop momentum and raise really big funds in 2014 to make Bob Avakian - BA - and his vision and framework for a radically new society concentrated in the new synthesis of communism known throughout society.
---
THURSDAY EVENINGS AT REV BOOKS
March 13, Thursday, 7pm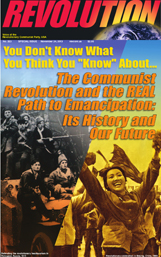 Come for an informal discussion of the special issue of Revolution newspaper
You Don't Know What You Think You "Know" About... The Communist Revolution and the REAL Path to Emancipation: Its History and Our Future
This Thursday:
Part 3: The Chinese Revolution (continued)
This discussion will examine the Great Leap Forward to the Great Proletarian Cultural Revolution in China (1966-76).
Growing up in America, you are systematically lied to about communism and revolution. What really happened in the Paris Commune? The Bolshevik Revolution? And in China during the Great Leap Forward and the Great Proletarian Cultural Revolution? Read this special issue on line or get a copy at Revolution Books, then come for an evening of informal digging into this history of emancipating revolution.
---
March 18, Tuesday, 7pm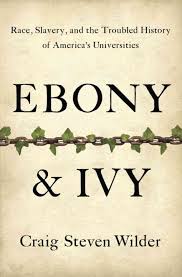 an evening at Revolution Books with
Craig Steven Wilder discussing his book:
EBONY & IVY
Race, Slavery, and the Troubled History of America's Universities
Come meet the author of one of the more important new books revealing another previously-unknown chapter in the history of how slavery has been central to the foundation of the United States.
Many of America's revered colleges and universities -- from Harvard, Yale, and Princeton to Rutgers, Williams College, and the University of North Carolina -- were soaked in the sweat, the tears, and sometimes the blood of people of color. The earliest academies proclaimed their mission to Christianize the "savages" of North America and played a key role in white conquest. Later, the slave economy and higher education grew up together, each nurturing the other. Slavery funded colleges, built campuses, and paid the wages of professors. Enslaved Americans waited on faculty and students; academic leaders aggressively courted the support of slave owners and slave traders. Significantly, as Wilder shows, the leading universities in the U.S. were dependent on human bondage and became breeding grounds for the racist ideas that sustained it.
Craig Steven Wilder is professor of American history at MIT, and has taught at Williams College and Dartmouth College. Wilder grew up in Brooklyn's Bedford-Stuyvesant neighborhood and received his PhD from Columbia University. He is the author of A Covenant with Color and In the Company of Black Men.
$10 Donation to support Revolution Books
Space limited.
Reserve: revbooksnyc@yahoo.com 212-691-3345
---
THURSDAY EVENINGS AT REV BOOKS
March 20, Thursday, 7pm

Continued discussion of the clip from BA Speaks: REVOLUTION—NOTHING LESS!
"The Challenge: Revolution--Nothing Less!"
Profound divisions in society make leadership with a scientific approach necessary. Without this leadership, the oppressed masses of people people will always be kept down and blocked from playing a liberating role in society.
---
Go to Revolution Books on-line store
Book of the Week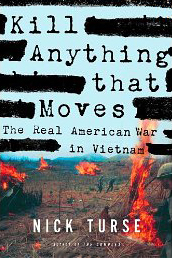 This week's Book of the Week is Kill Anything That Moves: The Real American War in Vietnam by Nick Turse published by Picador.
The mounds of corpses, including women, children, and babies, murdered by American troops in the Vietnamese hamlet of My Lai symbolized for many the horror of that war. At the time, military officials insisted that the massacre was an aberration and stressed that American troops in the field behaved with discipline and restraint, and strived to avoid civilian casualties. Not so, according to Turse, an investigative journalist who has been researching and writing about American war crimes in Vietnam for a decade. He has mined Pentagon archives and conducted interviews with American veterans to credibly support his assertion.
"A powerful case…With his urgent but highly readable style, Turse delves into the secret history of U.S.-led atrocities. He has brought to his book an impressive trove of new research—archives explored and eyewitnesses interviewed in the United States and Vietnam. With superb narrative skill, he spotlights a troubling question: Why, with all the evidence collected by the military at the time of the war, were atrocities not prosecuted?"
—Washington Post
Kill Anything That Moves is a 416-page paperback $17.00 value for only $12 at Revolution Books for one week only.
---
Now available on DVD!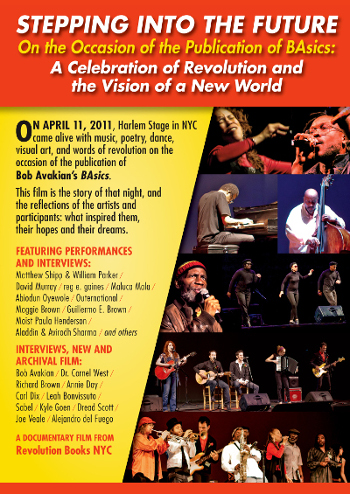 For an evening, on April 11, 2011, hundreds of people joined in a thrilling taste of revolutionary possibility at Harlem Stage in NYC. BAsics from the talks and writings of Bob Avakian—the handbook for revolution in the twenty-first century—had just been published (and today is in its second printing). To mark the occasion, musicians, dancers, poets, actors, visual artists, came together with revolutionaries and activists from the 1960s down to today for a cultural event titled: "On the Occasion of the Publication of BAsics: A Celebration of Revolution and the Vision of a New World."
75min DVD for $14.00. Price includes sales tax and shipping.
---
Bring your books to Revolution Books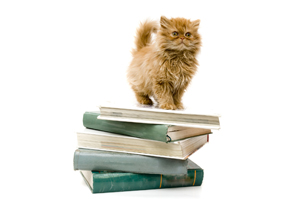 Do you have good used books? Donate them to Revolution Books.
We are assembling a large collection of good used books, including a treasure house of rare books-- the hidden histories of the Soviet and Chinese revolutions, memoirs from the 60s Black liberation and women's movements, out-of-print chronicles of struggles in Africa, Latin America, Asia... art books, novels, poetry...
Bring your books to Revolution Books and we will get them back in circulation to the people who yearn for a different future. And you will help keep this revolutionary bookstore open.
---
---
---
SAVE REVOLUTION BOOKS!
Contribute or become a monthly sustainer.
---
Become a Friend
of Revolution Books.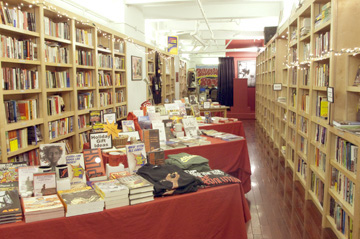 ---
"RB Gear" Now Available at Revolution Books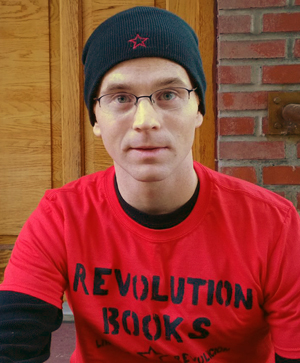 T-shirt $15
Knit cap $15
Canvas Tote Bag $10
---