RefuseFascism.org has issued an urgent call to:

BRING DC TO A HALT!
MILLIONS IN THE STREET SAY NO!
DON'T STOP!

Going into the Inauguration, flood the streets of Washington, DC with millions of people, determined to stay on the streets to stop the Trump-Pence regime before it starts.This starts January 14, the weekend of Martin Luther King Jr.'s birthday, and DOES NOT STOP till this regime is prevented from ruling. This is the kind of political crisis needed at this moment in history. It has happened before, and it can happen again.

Revolution Books is promoting this Call and urges people to sign it and join in this effort to Stop The Trump-Pence Regime Before It Starts.
______________________________________
In the Name of Humanity,
We REFUSE to Accept a Fascist America…

65 Defiant Days at Revolution Books: Talks, Dialogue, & Culture
As Donald Trump assembles a dangerous leading core of outright bigots, white supremacists, xenophobes, and misogynists--what is taking shape is nothing less than the beginning of a fascist regime. This must be understood. This must be resisted. It must be stopped.
Five days after the election, Revolution Books called for 65 days of urgent programming to dig into:
• why this fascist has been elected president
• what is fascism
• what are the roots and present-day reality of the vicious demonization and oppression of Black people, immigrants, women, and LBGT persons
These events will get into the truly dangerous implications of all this for the people of the world. They will identify what lies at the root of the denial of science and truth, and the whole Christian- Fascist program and social base that is now cohered in the Trump-Pence package.
These are times to raise people's understanding and determination—to build very broad unity and fan resistance everywhere to refuse to accept a fascist America, to not conciliate, accommodate, or collaborate with this direction. And, at the same time, we will invite people to discuss and engage the new communism developed by Bob Avakian and to become a part of the movement for an actual revolution.
All who care about the fate of humanity, join in…65 Defiant Days at Revolution Books!
STAY TUNED at our home page FOR THE SCHEDULE OF EVENTS.
Watch videos from this series:
• Andy Zee and Carl Dix on what fascism is, the historical parallels to and lessons from Germany in the 30s, and what we have to do NOW to stop it
• Sunsara Taylor at Revolution Books on Trump-Pence and women
• A benefit concert by Afro-Latin jazz great Arturo O'Farrill
• A reading by National Book Award winner Colson Whitehead.
______________________
Click on the article below and spread it on social media.
"At Revolution Books "the lights are holding steady and people are talking..."
So writes the literary website Lit Hub about Revolution Books on Nov 30th. Lit Hub describes itself as "a website readers can rely on for smart, engaged, entertaining writing about all things books..."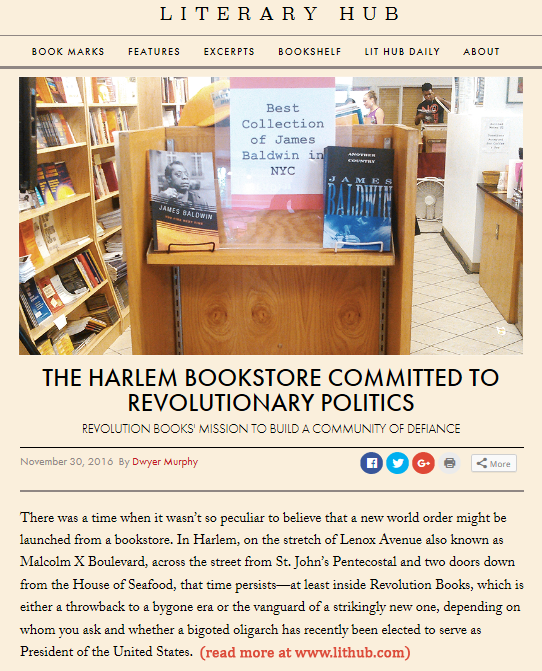 YOUR DONATIONS to the vital and critical life of Revolution Books are more needed than ever in this moment. Please our home page and DONATE NOW.